Brief History
viaPlace emerged from an idea in 2004 to fuse together emerging technologies and provide the end user with dynamic experiences and information based on their location. Since its official formation in 2009, viaPlace has become a market leading Software­-as-­a­-Service (SaaS) company, creating applications that utilize the newest technologies in geolocation.
Partnership with Mindgrub
viaPlace has a strong relationship with Mindgrub, a fully staffed technology innovation agency that cultivates top tier talent in user experience, design, development and digital marketing. With a strong portfolio across a multitude of fields, Mindgrub has reached clients like Under Armour, Crayola, University of Maryland, Towson University, AOL, DELL, Wendy's, Parking Panda, Geico, and the Smithsonian. With the strength of viaPlace's software combined with the design, development, and marketing know-how of Mindgrub, our clients are ensured success.
---
Leadership Team
Todd Marks – President & Founder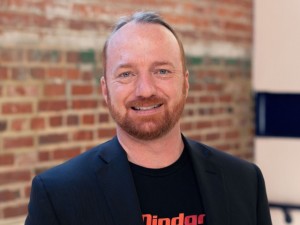 As Founder and President of both viaPlace and Mindgrub, Todd has a history of technological and entrepreneurial innovation. Marks is an industry leader, professor, author, and sought after speaker. Marks has been featured in publications like The Huffington Post, Inc.com, CNN, Baltimore Business Journal, The Baltimore Sun and Newsweek, and appears regularly at conferences such as TedxBaltimore, SXSW, the NABShow and SALT.
Outside of work, Todd enjoys being outdoors. On most weekends you can find him camping, kayaking, biking, or spending time with family.
AJ Workman – Vice President of Product Development
AJ Workman is a creative visionary having done Special Effects / Makeup Effects in 41 films over 11 years. He then worked over 11 years for The Walt Disney Company as an Imagineer where he first met Todd Marks while discussing wayfinding for the Disney parks. He spent the rest of his career developing software and working with emerging technologies and how they relate to guest experiences. Before joining viaPlace, he led the team developing highly accurate wayfinding and new technologies for The Museum of the Bible.
Steve Promisloff – Senior Vice President of Marketing
Steve Promisloff heads the Branding and Marketing unit within the Mindgrub organization. Steve has worked on complex assignments for Fortune 100 clients in a business-to-business and business-to-consumer capacity since 1976. The focus over that period of time has been on integrating sound marketing with design — integrating the appropriate tactics in a measured manner to best solve business problems, without bias for one discipline over another. Additionally, this core strength in marketing has translated into significant benefits for clients on the digital side of marketing, as evidenced by the advanced approaches and methodologies put in place at Mindgrub, in the application of brands to web environments and other online and traditional print advertising assets.
Jason Perry – Vice President of Software Engineering
With over 16 years of experience as an engineer and consultant as Vice President of Engineering, Jason keeps the train on time, oversees the web and mobile engineering teams, and provides technical direction. Jason is a veteran of multiple business sectors and has strong experience working on Drupal, Javascript, and mobile application development. Before joining viaplace, Jason was a partner in a New Orleans based web consulting firm that did work for Michael Jackson, the City of New Orleans, and Dillard University. A New Orleans native, Jason studied Marketing and Computer Science at University of New Orleans and is currently pursuing an Executive MBA from Villanova University.
Aaron Bickoff – Vice President of Client Services
Aaron Bickoff is viaplace's Vice President of Client Services, guiding projects through to successful conclusions. As a Certified ScrumMaster, Aaron believes that communication within each team lays the foundation for success. Whether talking with clients to help them understand their own technical needs or collaborating with the developers, architects, and designers at viaplace, Aaron facilitates accurate and efficient production for all clients. Aaron utilizes a mix of waterfall and agile processes to help clients develop viable products according to their specific needs. Aaron is a University of Delaware graduate with a degree in Business Administration / Marketing. He also has minors in Management Information Systems and Economics.